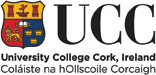 Dr Florence McCarthy BSc, PhD, MRPharmS, LIPharmS, MRSC
Dr Florence McCarthy BSc, PhD, MRPharmS, LIPharmS, MRSC
Contact Details
Title
Lecturer
Address
Chemistry
University College Cork
Cork,
Ireland

Telephone:
+353 21 490 1695
Fax:
+353 21 427 1656
Email:

ei.ccu@yhtraccm.f
Biography:
Florence McCarthy graduated from the School of Pharmacy, University of Sunderland, UK winning the Pfizer prize for Excellence in Medicinal Chemistry. After a year of registration to the Royal Pharmaceutical Society of Great Britain register as a pharmacist in Glasgow, his subsequent PhD was undertaken in Medicinal Chemistry with Prof. Paul Groundwater at the University of Sunderland and entitled "Synthesis of Novel Ellipticines as Molecular Probes and DNA Binders" funded by the EPSRC.
In 2001, Dr. McCarthy joined Prof. Bill Denny at the Auckland Cancer Society Research Centre (ACSRC), University of Auckland, New Zealand in conjunction with Pfizer Global Research and Development working on inhibitors of the Wee1 and Chk1 checkpoint kinases and the ErbB kinase inhibitor programme. On his return to Ireland, he joined UCC as a part-time Lecturer in the School of Pharmacy and the Department of Chemistry in 2003 before being made permanent in the Department of Chemistry in 2005.
Currently, Dr. McCarthy leads a team of researchers in medicinal and pharmaceutical chemistry investigating the synthesis and evaluation of diverse bioactive molecules from steroids to complex heterocycles. Key to the approach of the group is the development of novel molecules for the treatment of diseases such as cancer and HIV and to this end, lead compounds are devised and synthesised to address a particular receptor in the body. Once the synthesised molecules have been validated these are taken forward (both in-house and in collaboration) toward biological evaluation. This drug discovery approach has so far yielded many interesting publications concerning the synthesis of novel heterocycles and the relationship of these compounds to biological processes.
He is a Principal investigator in the Analytical and Biological Chemistry Research Facility (ABCRF) and also runs the ABCRF mass spectrometry laboratory providing LCMS services to most of the multinational pharmaceutical corporations in Ireland, as well as within UCC and to many other third level institutions.
Dr. McCarthy is currently module coordinator for CM4108, CM4109, PF1101 and PF3102 on the B.Sc. Chemistry, B.Sc. Chemistry of Pharmaceutical Chemistry and B.Sc. Pharmacy degree programmes and chairs the Staff Student Committee for the Department of Chemistry.